It is hard to believe we are in our 8th year in South Africa. Time sure does fly.
Shortly after we arrived, we embarked on jobs and projects we felt God lead us to. Chris took on the School of Biblical Studies and Lindsey stepped into the role of Training Director, seeking to bring cohesion to all the different programs.
At the time the campus was small, with 30 full-time staff, training approximately 70 students per year. 
Through the years, we've seen explosive growth; outgrowing our classrooms and needing additional housing. From 30 staff we now have 150 full-time staff, from 70 students we now have 260 students coming through our doors to be trained each year. God has been good and gracious!!
Recently, we were able to hand off many of our responsibilities to some faithful men and women we have had the privilege of seeing rise up. Every leader's greatest hope is that what you build will outlive you. It is wonderful to see this transition take place!
With all this growth, we had become swamped with more responsibilities than we could handle.This transition gives us the freedom to continue to develop leaders, teaching and preaching, as well as helping to lead the ministry of YWAM. We are excited to be even more focused on what we are good at. Exciting times!
Prayer Requests
With growth, we find our campus desperately in need of additional facilities. We need more housing for students, additional classrooms and dining space, as well as a large corporate meeting area. Please Pray!!
Answer to a Long Standing Prayer Request
For those of you who have journeyed with us for a long time, you know it has been our desire
to plant roots in South Africa through the purchase of a home. We've had a number of false alarms and disappointments over the years. God recently dropped a house in our laps! In a matter of 3 days, we found a house and bought it. Even better, it is only two doors down from our current rental. The boys will not need to adjust to a new neighborhood or make new friends. Thank you to those who stood with us in prayer all these years!
HEADLINES
After Mandela As you are aware, South Africa lost its "Tata" (father). The nation continues to mourn but also looks forward, recently holding elections. Pray that this nation would walk in the spirit of Mandela. Violence is still an issue. Just this week, 8 people were killed, blocks from our home, in gang and drug related violence.!
Thailand Lindsey taught on Relationships in Thailand to students from all over Asia, even some from unreached people groups. A highlight was a discussion on "dating" as a Christian. Many students shared that in their culture they "date" by kidnapping the girls from their homes (also known as bridal kidnapping). This was an enlightening experience where the students asked the question, "What would a follower of Jesus do?" !
Reproduction of Leaders One of our desires is to multiply leaders throughout the African continent. We recently sent out someone to Burkino Faso to work with Bible schools in West and Central Africa and another to pioneer a Bible School in Rwanda
Permanent Residents We have been granted Permanent Residency status in South Africa (like a Green Card). This means no more Visas, we stay or leave on our own terms. We do not need to renounce our US citizenship. This gives us an extra layer of security and longevity.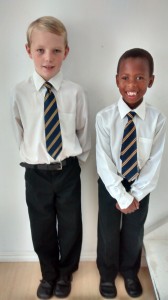 Boy-land The boys are 8 & 9 years old and in Grades 2 and 3. They both attend a local South African school. They have great friends, are doing well at school and learning the language of Afrikaans. Like boys, the highlight of the week is sports. They play soccer, rugby and cricket. Thabo also sings in the school choir!! Both of them are very excited about this upcoming trip to the USA where they plan to eat as many hamburgers as possible and drink as much root beer as we allow:)
Online: We are both blogging! You can find Chris's writings on Grace, Leadership and the Bible at: www.nosuperheroes.com
Lindsey writes about love in the areas of friendship, dating, marriage, parenting and sex at: www.thisisloveactually.com
Contact Information
If you would like to receive a paper copy of our newsletter published about once a year, let us know.
Chris and Lindsey Lautsbaugh 

email@lautsbaugh.com
www.lautsbaugh.com
Donations processed through:
The Worship Center
2384 New Holland Ave
Lancaster. PA 17601
or Project Grace at  www.lautsbaugh.com