Greetings from summer in South Africa!
You read that right! December and January in South Africa are the height of summer. The kids finish the school year and have a six-week summer holiday. Both the boys did excellent in school and will begin grades 3 and 2 in mid January.
The theme of our recent lives has been leadership.
You are all aware that South Africa and the world lost one of its greatest leaders with the passing of Nelson Mandela. It was amazing to be here as the country embarked on a journey of mourning, celebration, and remembrance for what Madiba fought for and accomplished. I have never seen such a world-wide outpouring for any one individual.
The world is asking South Africa, "What will you do now?"
Our hope and prayer is that this nation embraces the values of Mandela even more in the coming years.
On a much lesser scale, both Lindsey and Chris have embarked on some leadership changes recently.
Due to the continued growth of the ministry, we have begun to restructure our leadership team. This change has allowed Lindsey to pass off many of the things she was overseeing. This is a good change. What started as a position able to be filled in a part-time role, grew to the job of 3-4 individuals. This change will be complete by March 1st.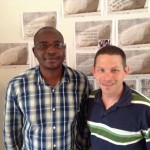 Chris has also been able to pass off his responsibilities in the Biblical Studies team. In late November, we had a handover to the new leader, Nick from Zimbabwe. It was a wonderful time of celebration, remembering the past, and anticipating even greater growth in the future.
As news of these changes breaks, the very first thing on people's lips is, "What will you do now?"
The answer is simple. The same things we were doing, only more of it! Instead sitting in endless meetings and logistical gatherings, we will embark on even more teaching, leadership development, coaching, counseling, and mentoring.
These changes will actually serve to make us more effective in using our gifts and abilities to serve in South Africa. One thing both of us are excited about is the ability to engage even more with local churches and ministries, rather than solely Youth With a Mission. We see this as an expansion of our ministry and effectiveness.
One final update is that of our pursuit of a house.
As many know this has been a long journey, filled with ups and downs. What will we do now regarding a house?
We feel that in the course of the next two years the time is right for us to buy. We've grown and learned things through the trials and past attempts. We were protected from a bad decision or two. But we feel now is the time. Twenty plus years of paying rent on a missionaries income has become wearisome 🙂 We have some set aside (including all past gifts) for a down payment. We are trusting for either the full amount, or a way to gain a small loan from an individual or institution in the US (since we cannot finance in South Africa) to make up the difference. (approx. $50,000)
Please pray with us in these next few months and years to see this happen. Thank you so much for all your prayers and support during the past year. Great things have happened in South Africa!
Merry Christmas!
The Lautsbaugh's – Chris, Lindsey, Garett, and Thabo