Yesterday was a day this nation has waited for with anticipation for years now. Flags everywhere, African soccer horns called Vuvuzelas blowing (think low pitched cow moos combined with trucker horns). We boarded the train to Cape Town with the horns blowing throughout the train. Yellow South African "Bafana Bafana" jerseys (the boys, the boys in Zulu) on everyone.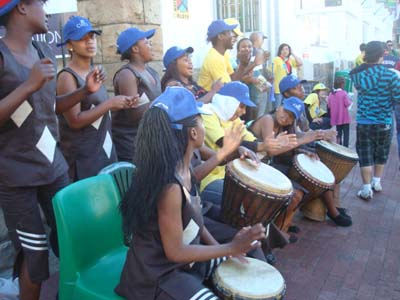 We exited downtown to a spotless city. Police and Fifa helpers everywhere in an amazing show of organization. Gasp, even trashcan and porta potties in all the right spots (this is not normal!) Walking to the viewing areas we see people draped in flags and their national colors everywhere.
Then the South Africa match starts. The din of the horns is non stop. We cannot find a viewing area anywhere there are so many people. Collective gasps each time South Africa gets close or Mexico has a near miss.
We are sitting in a mall eating lunch when suddenly the mall erupts into cheers. People literally run to the nearest TV set. Bafana Bafana has scored! The 83rd ranked team in the world is beating the heavily favored Mexicans. We lean in to catch the corner of a TV screen at a photo copy shop (yes this was the best option the crowds were so thick). The crowd is singing the national anthem and other spiritual African songs as the match progress. They dance, at some points it seems the whole mall is singing.
The match ends in a draw with Mexico scoring a late equalizer. But this is a victory for South Africa and a loss for Mexico. We walk towards the stadium in the night match to a chorus of song and horn.
People of all races are joining together in this. This is unprecedented in this nation. Pray that this is a tipping point to a brighter future here. This is Africa's proudest moment. They are showing the world that they have much to offer. The US could take lessons from Africa on how to host a World Cup party.
Pray for Africa as history unfolds here!
{jcomments on}